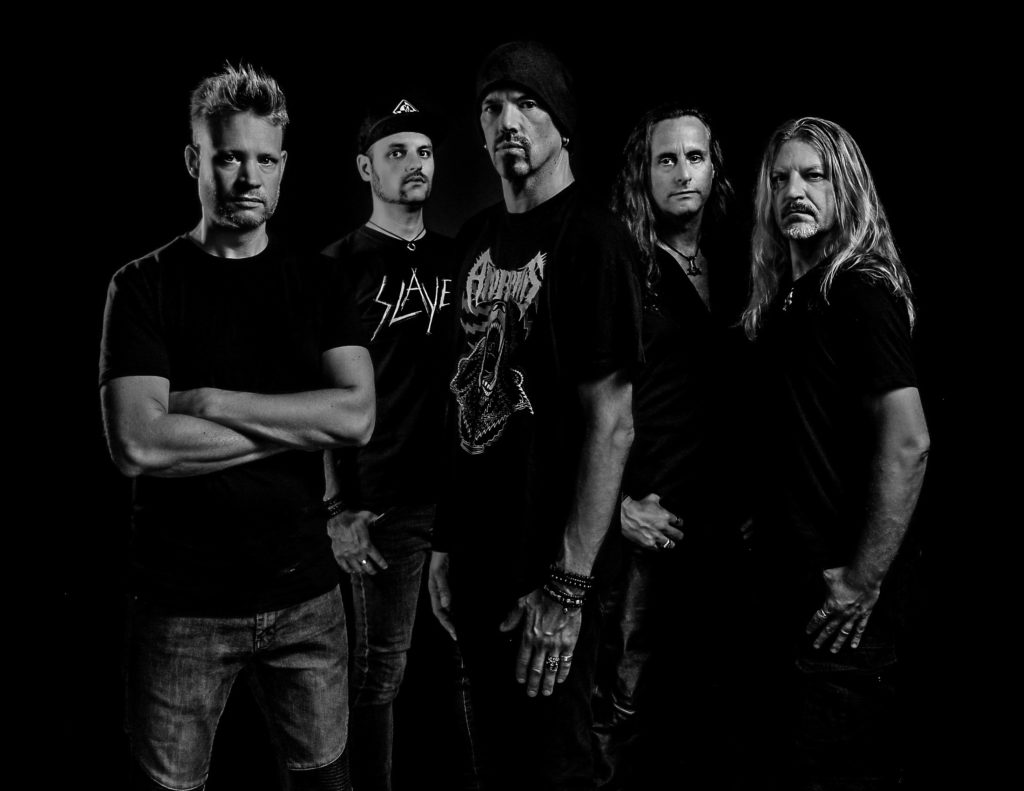 LINE-UP
Torger (Vocals)
Stevo (Guitar)
Pepe (Guitar)
The Walt (Bass)
Sidney (Drums)
BIO ENGLISH
This mighty reptile of the species 'Serpens Metallicus' is making its way through the noisy jungle and is definitely taking some prisoners … the number of followers is growing steadily. The menu includes friends of straight, hard, riff orientated, modern Heavy Metal, which is not lacking in catchiness and hooklines. If you cut open the belly of the beast, you will find patches from Metallica, Trivium and Hellyeah.
The beast has appeared regularly in public since 2015 and impresses with its massive biting power. The raids are planned and carried out mercilessly from the hatchery in Hamburg.
The reptile has already been spotted in well-known clubs and at various festivals, e.g. at Metal Dayz 2016 and at Rock Am Stück 2019. The German Rockers from Motorjesus were also enthusiastic about GODSNAKE and booked them as a support on their "Race To Resurrection" tour for the shows in Hamburg, Berlin and Leipzig.
The perfect bait is the first longplayer, which has been released in October 2020. The album was recorded and produced at LSD studios in Lübeck by mastermind Lasse Lammert (Alestorm, Gloryhammer and many more), who is also responsible for the first 4 track EP.
As the hunger grows, planning for further predator feeding in 2020/2021 is in full swing.
Watch out for the beast to bite you – watch out for GODSNAKE.
BIO DEUTSCH
Dieses fette Reptil der Gattung 'Serpens Metallicus' bahnt sich unaufhaltsam seinen Weg durch das lärmende Unterholz und macht dabei einige Gefangene… die Zahl der Anhänger wächst stetig. Auf dem Speiseplan stehen dabei Freunde von straightem, hartem, rifflastigem Heavy Metal der Neuzeit, dem es nicht an Eingängigkeit und Hooklines mangelt. Würde man den Bauch der Bestie aufschneiden, liessen sich sicher Kutten von Metallica, Trivium und Hellyeah finden.
Seit 2015 zeigt sich das Biest regelmäßig in der Öffentlichkeit und überzeugt durch seine eindrucksvolle Beisskraft. Von der Brutstätte in Hamburg werden die Beutezüge geplant und gnadenlos vollstreckt.
Unter anderem wurde das Reptil schon in bekannten Clubs und auf verschiedenen Festivals gesichtet, z.B. bei den Metal Dayz 2016 und beim Rock Am Stück 2019. Auch die Rocker von Motorjesus konnten sich für GODSNAKE begeistern und engagierten sie als Support auf ihrer "Race To Resurrection" Tour für die Shows in Hamburg, Berlin und Leipzig.
Als Köder im Gepäck ist ab sofort der erste Longplayer, der im Oktober 2020 veröffentlicht würde. Aufgenommen und produziert wurde dieser mächtige Happen in den Lübecker LSD-Studios von Mastermind Lasse Lammert (u.a. Alestorm, Gloryhammer), der sich auch bereits für die erste 4 Track-EP verantwortlich zeichnete.
Da der Hunger der Bestie immer grösser wird, läuft die Planung für weitere Raubtierfütterungen in 2020/2021 auf Hochtouren.
Watch out for the beast to bite you – watch out for GODSNAKE.