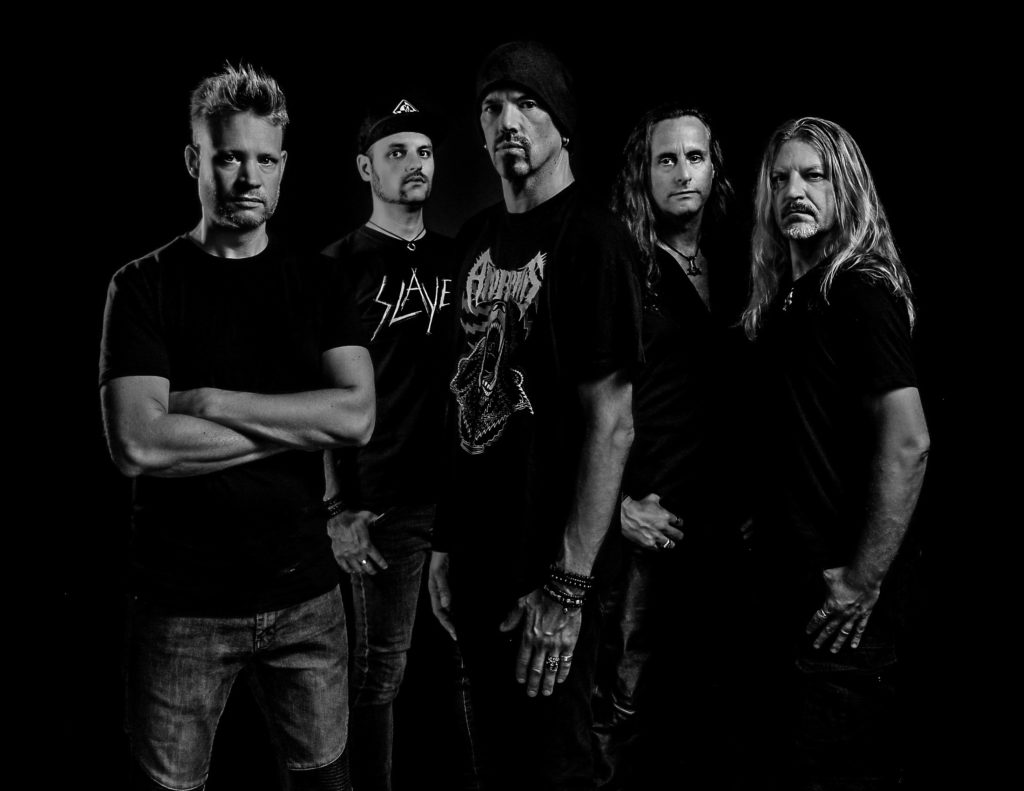 LINE-UP
Torger (Vocals)
Stevo (Guitar)
Pepe (Guitar)
The Walt (Bass)
Sidney (Drums)
BIO ENGLISH
The snappy hungry beast is hunting again. Greedy, voracious and with a bite that leaves clear traces. On May 12th, 2023 Hamburg´s metal maniacs GODSNAKE will release their second album "Eye For An Eye" via Massacre Records.
Contemporary Heavy Metal with significant references to some of the big old masters: straight, hard, riff-orientated, but never missing catchiness and hooklines. The flag of GODSNAKE will continue to fly in this wind in 2023.
"For us it feels like we're going to be able to present 2 newly released albums live this year, as of course the motherfucking pandemic hasn't let us play live extensively. That´s why we are more than excited to finally go crazy and give it all again on stage", says Torger, the singer of the band.
The club shows and festivals where the band was able to celebrate their 2020 debut album "Poison Thorn" clearly showed how much enthusiasm and passion the boys have for their music. The audience cheered the band on at the concerts with Rage, Brainstorm and The Unity, among others, so that the snake community continues to grow.
The reptile has been up to mischief in the scene since 2015 and has successfully established itself in the metallic jungle. Torger (vocals), Stevo (guitar), The Walt (bass) and Sidney (drums), who were already involved in the album "Poison Thorn", were reinforced in 2022 by guitar wizard Pepe (Ancient Curse, Sons Of Seasons) and thus again been completed.
With the second album, the 5 musicians want to prove and renew the very positive feedback on the debut and thus maintain their place in the ranking.
Watch out for the beast to bite you – watch out for GODSNAKE.
BIO DEUTSCH
Hamburgs bissiges Biest geht wieder auf die Jagd. Gierig, gefrässig und mit einer Beisskraft, die deutliche Spuren hinterlässt. Am 12.5.2023 veröffentlichen die Metaller aus dem Norden ihr 2. Album "Eye For An Eye" via Massacre Records.
Heavy Metal der Gegenwart mit Bezug auf einige wegweisende Altmeister: Straight, hart, rifflastig, ohne Mangel an Eingängigkeit und Hooklines. Die Fahne von GODSNAKE weht auch 2023 in diesem Wind.
"Für uns fühlt es sich so an, als dürften wir dieses Jahr 2 neu veröffentlichte Alben live präsentieren, da die motherfucking Pandemie uns natürlich nicht ausgiebig hat live spielen lassen. Dementsprechend sind wir umso heisser darauf, endlich wieder on stage die berühmte Sau rauszulassen" sagt Torger, der Sänger der Truppe.
Die Club Shows und Festivals, bei denen die Band ihr 2020er Debut Album "Poison Thorn" zelebrieren konnte, haben deutlich gezeigt, wie viel Bock und Leidenschaft die Jungs an Ihrer Musik haben. Das Publikum hat die Truppe auf den Konzerten mit u.a. Rage, Brainstorm und The Unity kräftig abgefeiert, so dass die Schlangen Community konsequent weiter wächst.
Seit 2015 treibt das Reptil sein Unwesen in der Szene und hat sich erfolgreich im metallischen Dschungel etablieren können. Torger (Gesang), Stevo (Gitarre), The Walt (Bass) und Sidney (Drums), die bereits am Album "Poison Thorn" beteiligt waren, sind 2022 durch den Gitarrenbeschwörer Pepe (Ancient Curse, Sons Of Seasons) verstärkt und somit wieder komplettiert worden.
Mit dem zweiten Album wollen die 5 Musiker jetzt das stark positive Feedback zum Debut untermauern und somit ihren Platz in der Rangordnung behaupten.
Watch out for the beast to bite you – watch out for GODSNAKE.
Get full presskit here